ARCHON Symposium: Young voices on the Ancients
Date: 16 April 2021
Location: Online
– ARCHON meets 'Week van de Klassieken'! –
This year ARCHON will organize a symposium during the Week van de Klassieken (Week of the Classics, 8 – 18 April 2021) in cooperation with the Allard Pierson Museum and the National Museum of Antiquities (RMO). The symposium is titled: 'Young voices on the Ancients – students' perspectives on the study of the past' and provides a platform for students to present their research for a broader, popular audience.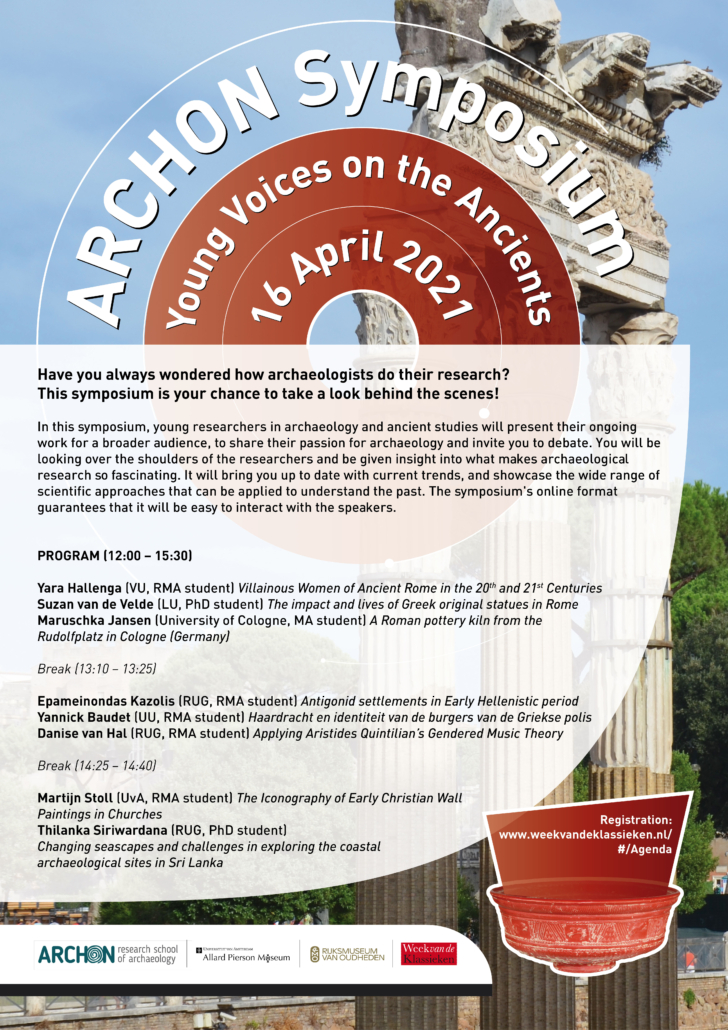 12:00 – 12:10 Introduction
12:10 – 12:30 Yara Hallenga (VU, RMA student) Villainous Women of Ancient Rome in the 20th and 21st Centuries
12:30 – 12: 50 Suzan van de Velde (LU, PhD student) The impact and lives of Greek original statues in Rome
12:50 – 13:10 Maruschka Jansen (University of Cologne, MA student) A Roman pottery kiln from the Rudolfplatz in Cologne (Germany)
Break (13:10 – 13:25)
13:25 – 13:45 Epameinondas Kazolis (RUG, RMA student) Antigonid settlements in Early Hellenistic period
13:45 – 14:05 Yannick Baudet (UU, RMA student) Haardracht en identiteit van de burgers van de Griekse polis
14:05 – 14: 25 Danise van Hal (RUG, RMA student) Applying Aristides Quintilian's Gendered Music Theory
Break (14:25 – 14:40)
14:40 – 15:00 Martijn Stoll (UvA, RMA student) The Iconography of Early Christian Wall Paintings in Churches
15:00 – 15:20 Thilanka Siriwardana (RUG, PhD student) Changing seascapes and challenges in exploring the coastal archaeological sites in Sri Lanka
Credits: Due to the relatively short duration of this symposium, no credits can be obtained.
Registration: You can find our event on the website of the Week van de Klassieken, under agenda: https://www.weekvandeklassieken.nl/#/Agenda
https://www.archonline.nl/wp-content/uploads/2021/02/LogoWvdK-2021.jpg
538
1344
Archon
https://www.archonline.nl/wp-content/uploads/2018/05/archonline-logo-lc-2.svg
Archon
2021-03-31 08:47:25
2021-04-08 17:48:58
ARCHON Symposium: Young voices on the Ancients – 16 April