New online course: Rchon statistics course
We are now offering a new continuous online course on statistical analysis for archaeologists using R. Get yourself immersed in the wonderful world of statistics and scripting! More information >>
Data Management for Archaeologists
On 29 November, the Faculty of Archaeology, the Center for Digital Scholarship and ARCHON have organized a training on Research Data Management. Data management involves the creation, safe storage and preservation of research data. The course touches upon all aspects of data management, with examples drawn from archaeological research practice. The workshop will introduce the participant to the principles of good research data management (RDM), policies concerning RDM and the benefits of RDM, and the practice of writing a data management plan (DMP). More information >>
CAA Conference 2021
CAA Netherlands/Flanders are planning to organise the 2021 chapter meeting online on December 9 & 10 2021. More information >>
Immortal Materiality or Mortal Objects?
The graduate students of the UvA-RMA course Matter Materiality and Material Culture, are organizing a conference on what they have learned the past couple of months. The one-day conference 'Immortal Materiality or Mortal Objects' 2021 is taking place on December 16th and will be a hybrid event. More information >>
Romeinensymposium 2021 (in Dutch)
The Annual Conference on the Roman archaeology of the Netherlands and adjacent areas takes place on 17 December! The event aims to provide a platform for the exchange of knowledge between professionals working in universities, archaeological companies, heritage institutions, and government. The program includes reports of recent fieldwork as well as analyses of find categories and more synthesizing studies. More information >>
Introduction to Roman numismatics
Some basic knowledge of coinage is indispensable for any archaeologist! This one-day course offers an introduction to Roman coinage in general, and zooms in specifically on the types that are commonly found in the Dutch soil. After a general introduction on the main developments in the Roman coin system from the introduction of coinage to the 3rd c. AD, the course will focus on coin identification. You will learn to consult and interpret numismatic catalogues, and related web-based databases. Special attention will be given to the various abbreviations and symbols used on Roman coinage and how these are documented in the numismatic handbooks (no knowledge of Latin required). More information >>
Funnel Beaker junior conference
Students from the Rijksuniversiteit Groningen are organising a junior congress themed: the Funnel Beaker period. The number of people working within this area of study is vastly growing, therefore they would like to take the opportunity to connect one another in the same discipline. More information >>
Continuous online courses
ARCHON has selected some skills courses that can be followed online at your own pace:
ARCHON members can obtain credits by submitting a report afterwards.
Recap Sensing the Past
From October 7th-9th 2021, the international workshop 'Sensing the Past: A workshop in applied sensory archaeology and heritage assessment' was held in Amsterdam. Organised by PhD-students Pamela Jordan and Sara Mura, the workshop brought together established scholars and early-stage researchers across disciplines who apply sensory approaches to their heritage and archaeology research. Read a summary of the event here >>
RMA-MEMBERS STEERING COMMITTEE
We are looking for 2 RMA students to represent their university in our Steering committee!  We are searching for one student from Groningen University and one student from University of Amsterdam. More information>>
Open Archaeology special issue
In February 2020, the Archon Winter School "Sharing Practices: Archaeological 3D Visualisation in the Netherlands" (20-22 February, 2020) took place, organised together with Loes Opgenhaffen, Martina Revello Lami and Hayley Mickleburgh. The Archon Winter School led to a Special Issue of the open access journal Open Archaeology on Art, Creativity and Automation. Sharing 3D Visualization Practices in Archaeology. 
Check out the special issue here >>
New issue of KLEOS
The Amsterdam Bulletin of Ancient Studies and Archaeology (KLEOS) published a new issue! In the open-source peer reviewed journal the work of starting scholars of (R)MA, PhD and BA level is presented. Interested? You can read the publication online >>
Huibregtsenprijs 2021
The six nominees for the annual Huibregtsenprijs have been announced! ARCHON nominated PAN (Portable Antiquities in the Netherlands) of dr. Stijn Heeren, but unfortunately the project was not selected among the six to win the prize. Nevertheless the jury was very enthusiastic and expressed their appreciation for the project. Curious which projects were selected? Have a look here >>
NEW ARCHON STEERING COMMITTEE MEMBER
Welcome to Joris Aarts as a new member of the ARCHON steering committee! Joris is Assistant Professor at Vrije Universiteit Amsterdam. He will replace Jan Paul Crielaard who is now a member of the ARCHON Board. Welcome Joris!
ARCHON NEWSLETTER AND MAILINGS
Do you want to stay up to date on ARCHON supported events, funding opportunities and calls for poster/papers/abstracts? Both ARCHON members and non-members can subscribe to out mailinglist. Her you can find the sign up form to the ARCHON mailing list. 
MEMBERSHIP
RMA students, PhD students and staff members of the participating institutions can all become members of ARCHON. Membership of ARCHON will give you access to its educational activities, bring you into contact with fellow students and researchers and will provide opportunities to present your work. Read more >>
EVENT FUNDING
Are you a staff member, PhD researcher or RMA student and are you considering organizing an event on your research topic? Did you know that Archon can help you organize and host such events? Read more >>
CONFERENCE SUBSIDY
ARCHON encourages PhD and RMA students to attend and speak at conferences abroad. Therefore we annually award a limited number of conference subsidies to RMA and PhD students for presenting a paper or poster at an international conference. Read more >>
TRAVEL TO AND FROM GRONINGEN
In order to facilitate student mobility, ARCHON reimburses up to 40 euros per year (per student) for traveling to and from Groningen for attending educational activities. Travel is only reimbursed for students who send in an evaluation report in order to claim ECTs. Contact our secretary for more information.
PUBLISH YOUR RESEARCH
ARCHON wants to motivate PhD and RMA students to publish their research! To help you get started, we organize a workshop Publishing for Early Career Researchers, and we have listed a number of online journals that are are open to, or especially meant for, publishing research from Graduate and PhD students. Read more>>
VACANCIES:
Aberdeen/Queen's University, Belfast
Funded PhD at Aberdeen/Queen's University, Belfast on post-medieval colonisation of lowland hills. The approach should draw from the tool kit of historical ecology, but might be augmented by the historical and or social sciences. More information >>
Deadline: 1 December 2021
University of Leicester
Childhood in Iron and Viking Age Scandinavia. The ERC funded project 'Body-Politics: Personhood, Sexuality and Death in Iron and Viking Age Scandinavia', explores the politics of late prehistoric Scandinavia through the battleground of the body, combining archaeological evidence, bioarchaeological methods, material culture and textual analyses to answer fundamental questions about the nature of bodies and beings in the past. More information >>
Deadline: 10 December 2021
CALLS FOR PAPERS:
Funnel Beaker junior conference is looking for (graduated) students who would like to present their research on: the Funnel Beaker period, another contemporaneous Neolithic group such as Vlaardingen, or a subject regarding Funnel Beaker megaliths.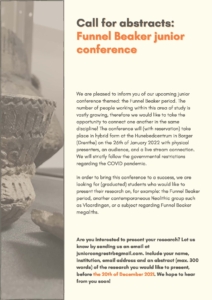 CRASIS invites applications for its eleventh Annual Meeting and Masterclass. This year's theme will be exemplarity. More information >>
Are you interested in governance and science? Check out Platform JOng, a new online platform for young researchers. You can contact them if you want to write a contribution for their platform and share your knowledge!
CONFERENCES:
14 December 2021 at 16:00 – CRASIS Ancient World Seminar 'Go(od) Luck: Theoi and tyche in Greek inscription readings'. More information >>
16 & 17 December 2021 – Workshop 'Ancient Colonialism in a Comparative Perspective'. More information >>
More PhD & Postdoc positions:
Check out Erik Rossenberg's blog postgraduate opportunities in Archaeology for an up-to-date list of PhD and postdoc positions in archaeology.
John's Hopkins University has set up a continuously updated repository of federal and private funding opportunities that are intended for postdoctoral investigators. The opportunities are pre-sorted chronologically and alphabetically, and can be searched by funding amount and subject matter.
Arches project (open source software platform) job opportunities.
Fund┋it collects and presents on a single website all research grants and fellowships (post-PhD) available for scholars in the social sciences and humanities in France.