Materiality Matters conference
The one-day conference Materiality Matters 2020: (new) archaeological approaches to human-thing relations is taking place online on 10 December 2020. Read more >>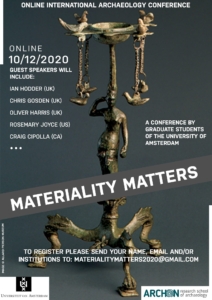 Romeinensymposium 2020
The Annual Conference on the Roman archaeology of the Netherlands and adjacent areas will take place on 18 December 2020. The program includes reports of recent fieldwork as well as analyses of find categories and more synthesizing studies. The event will be held almost entirely in Dutch. Read more >>
CAA 2020
This year the Computer Applications & Quantitative Methods in Archaeology Conference will take place online on 3 & 4 December! Read more >>
Continuous online courses
ARCHON has selected some skills courses that can be followed online at your own pace:
ARCHON members can obtain credits by submitting a report afterwards.
SCAPECON 2020 – ONLINE
22 Sept. 2020, 29 Sept. 2020 and 6 Oct. 2020
SCAPECON 2020: Breaking boundaries: negotiating change in the Aegean Bronze Age. This third installment of the no(e)scape-conference series returns to discuss relational archaeology in the Aegean Bronze Age. Read More >>
Online QGIS Course
Good news! You can now take the ARCHON QGIS course online. You get 1 EC for taking the course and making a report as the assignment. Read more>>
Online ArcGIS Course
You can now take the ARCHON ArcGIS course online. You get 1 EC for taking the course and handing in a report. Read more>>
ARCHON DAY RECAP BLOG
On 30 October 2020 the online ARCHON Day took place! This year's central topic was 'Advancing access to Research'. It was a successful day with an interesting poster session, workshop session and keynote lecture by Ben Marwick. ARCHON Steering Committee member Ela Altay wrote a recap blog about the day, including links to the posters and powerpoint presentations. You can find the recap blog of the ARCHON Day here >>>
NEW ARCHON STEERING COMMITTEE MEMBER
Welcome to Karsten Lambers, who will join ARCHON as a steering committee member from October onwards. Karsten is Associate Professor and head of the Digital Archaeology research group and in charge of the MSc programme Digital Archaeology at Leiden University. We're happy to have him on board!
GOODBYE WALTER LAAN
Walter Laan has decided to step down as a member of the Steering Committee. Besides his activities for the Steering Committee he also taught many GIS-courses at ARCHON. We would like to thank Walter for his long commitment to ARCHON and wish him good luck with his further activities!
NEW ARCHON BOARD MEMBER
The representative for Leiden University in the ARCHON Board, Prof. dr. David Fontijn, stepped down as a board member. We would like to thank him for his commitment to ARCHON. He will be succeeded by Jan Kolen, Dean of the Faculty of Archaeology and Professor of the History and Heritage of European Cultural Landscapes. Welcome!
LOOKING BACK AT THE ARCHON WINTER SCHOOL 2020
On 20-22 February 2020, the Archon Winter School Sharing Practices: Archaeological 3D Visualisation in the Netherlands was hosted by the RCE in Amersfoort and University of Amsterdam. This three-day event consisted of workshops, lectures by national and international researchers and practitioners, showcases of projects and equipment, opportunities for socializing and networking, and a roundtable discussion on the future of 3D visualisation practices in archaeology. You can find a summary of the event here >>>
NEW ARCHON COORDINATOR
ARCHON has a new a new coordinator! Eline Verburg started 1 May 2020, replacing IJk, who started her PhD research in Ghent. Due to the measures to combat the spread of the coronavirus it might take some time before you can meet Eline in person. However, she will be available to answer your questions and to meet you online. To contact Eline you can send an email to secretary@archonline.nl.
NEW ARCHON BOARD MEMBER
The RCE representative in the ARCHON Board, dr. Roel Lauwerier, is retiring and has stepped down as board member. Our special thanks go to him for his long commitment to ARCHON and for representing the RCE. He will be succeeded by dr. Hans Huisman, senior researcher at the RCE and professor by special appointment in Groningen, specialised in geoarchaeology and archaeometry. We are looking forward to having him on the board!
ARCHON NEWSLETTER AND MAILINGS
Do you want to stay up to date on ARCHON supported events, funding opportunities and calls for poster/papers/abstracts? Both ARCHON members and non-members can subscribe to out mailinglist. Her you can find the sign up form to the ARCHON mailing list. 
MEMBERSHIP
RMA students, PhD students and staff members of the participating institutions can all become members of ARCHON. Membership of ARCHON will give you access to its educational activities, bring you into contact with fellow students and researchers and will provide opportunities to present your work. Read more >>
EVENT FUNDING
Are you a staff member, PhD researcher or RMA student and are you considering organizing an event on your research topic? Did you know that Archon can help you organize and host such events? Read more >>
CONFERENCE SUBSIDY
ARCHON encourages PhD and RMA students to attend and speak at conferences abroad. Therefore we annually award a limited number of conference subsidies to RMA and PhD students for presenting a paper or poster at an international conference. Read more >>
TRAVEL TO AND FROM GRONINGEN
In order to facilitate student mobility, ARCHON reimburses up to 40 euros per year (per student) for traveling to and from Groningen for attending educational activities. Travel is only reimbursed for students who send in an evaluation report in order to claim ECTs. Contact our secretary for more information.
PUBLISH YOUR RESEARCH
ARCHON wants to motivate PhD and RMA students to publish their research! To help you get started, we organize a workshop Publishing for Early Career Researchers, and we have listed a number of online journals that are are open to, or especially meant for, buplishing research from Graduate and PhD students. Read more>>
STEERING COMMITTEE
ARCHON is looking for new members for the steering committee. The Steering Committee supports the Archon Office in developing its educational programme. It meets three times a year to discuss event proposals and other activities. Read more >>
ARCHON AND THE GENERAL DATA PROTECTION REGULATIONS
In the Netherlands the General Data Protection Regulation (GDPR) read more >>
Kiel University
Doctoral position in 'Ancient diet and mobility'. More information >>
Deadline: 30 November 2020
Johannes Gutenberg University Mainz
11 PhD positions in the fields of Classical and Ancient Studies. More information >>
Deadline: 1 January 2021
University of Maryland College Park
Four-year funded PhD position in the Central North Atlantic Marine Historical Ecology Project (CAMHEP). More information >>
Deadline: 5 January 2021
University of Bonn
Professorship in ArchaeoSciences/Bioarchaeology for a period of six years. More information >>
Deadline: 8 January 2021
Newcastle University and Historic Environment Scotland (HES)
PhD 'Understanding Military Spaces: Materiality and Social Practice in the Structures of the Antonine Wall'. More information >>
Deadline: 13 January 2021
Loyola University Chicago
Assistant Professor in Archaeology. More information >>
University of Glasgow
Archaeology at Glasgow is inviting applications for a PhD Proposal Competition and Workshop. The research projects cover periods from the Mesolithic to the Modern era and extend from the North Atlantic to Iraq, with regional foci in the prehistory of Scotland and Ireland, Early and Later Medieval Scotland including the Viking world, the ancient Mediterranean and Near East. More information >>
More PhD & Postdoc positions:
Check out Erik Rossenberg's blog postgraduate opportunities in Archaeology for an up-to-date list of PhD and postdoc positions in archaeology.
John's Hopkins University has set up a continuously updated repository of federal and private funding opportunities that are intended for postdoctoral investigators. The opportunities are pre-sorted chronologically and alphabetically, and can be searched by funding amount and subject matter.
Arches project (open source software platform) job opportunities.
Fund┋it collects and presents on a single website all research grants and fellowships (post-PhD) available for scholars in the social sciences and humanities in France.
CALLS FOR PAPERS:
Matteriality Matters conference 2020 – 10 December 2020
Human-thing relations have become an increasingly debated topic in materiality and material culture studies. The approaches to these relations have also been extensively debated. In our conference Materiality Matters 2020, we will add our contributions to this ongoing debate.
Some approaches that will be considered are authenticity, phenomenology, gender-roles and agency. Do these concepts sound familiar to you or in any way spark your attention? Then, we very much encourage you to be a part of Materiality Matters 2020. All contributions related to materiality and material culture discussions in archaeology are welcome. Of course, there will be some interesting guest speakers and topics, which are to be announced.
If you are interested in participating as a speaker, please send us a title, brief description (ca 200 words), your name and university to materialitymatters2020@gmail.com (deadline Friday 13 November).
Deadline 13 November 2020
25th Limes Congress
Call for papers on dress and adornment in frontier communities. The congress will take place from 22-28 August 2021. More information >>
Deadline 1 November 2020