Moving Materiality Forward: Exploring the Future of Materiality in Archaeology and Heritage
Date: 15 December 2022, 12:00-18:00
Location: University of Amsterdam, Singel 425, room: Belle van Zuylenzaal
Credits: 1/2 ECT
The graduate students of the UvA-RMA course Matter Materiality and Material Culture, are organizing a conference on what they have learned the past couple of months. The one-day conference 'Moving Materiality Forward: Exploring the Future of Materiality in Archaeology and Heritage' 2022 is taking place on December 15th and will be held at the University of Amsterdam.
The study of human-object relationships has always been an integral part of archaeological studies and as the field has developed so too has its approach to materiality. The way we attribute meaning and significance to the remnants of the past is always changing, presently we find ourselves caught between many different approaches and schools of thought. How do we resolve this contention? Which theories are growing in acceptance and popularity, which will be left behind? What does the future of materiality look like and how will we move materiality forward?
Programme: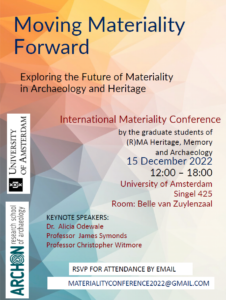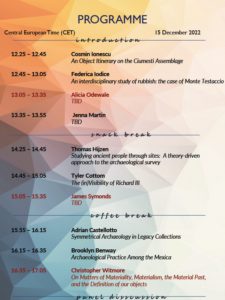 Credits: ARCHON members can receive 1 ECT for attending the conference and handing in a reflection report afterwards. ARCHON members can also receive 1 ECT for presenting at the conference, by handing in their (powerpoint)presentation.
Registration: Register by sending an email to materialityconference2022@gmail.com and inform the team about your name, institution or affiliation and if you are an ARCHON member.
https://www.archonline.nl/wp-content/uploads/2022/10/pexels-steve-johnson-1774986-scaled.jpg
1848
2560
Archon
https://www.archonline.nl/wp-content/uploads/2018/05/archonline-logo-lc-2.svg
Archon
2022-10-31 15:10:22
2023-01-23 15:30:33
Moving Materiality Forward – 15 December 2022