PhD members
Fernando Menéndez-Marsh, University of Groningen
The impact of Rome in central-western Iberia (second century BC- first century AD): A Landscape Archaeology perspective
I am a PhD student at the University of Groningen (Department of Classical and Mediterranean Archaeology). I studied Archaeology at the Complutense University of Madrid and the University of Sheffield. Later on, I specialized in Geographic Information Technologies when I obtained a master's degree in Madrid again. During my career I have worked and studied in different archaeological research environments of Spain, Portugal and the UK. My interests are related to Landscape Archaeology and how to effectively use geospatial technologies for archaeological purposes. I recently started my PhD which is directed by professors T. Stek (KNIR and U. Groningen), T. de Haas (U. Groningen) and A. Carneiro (U. Évora, Portugal). Its goal is to understand this complex process in a regional perspective but to also contribute to the study of broader research questions related to Roman imperialism and colonization in the wider Mediterranean.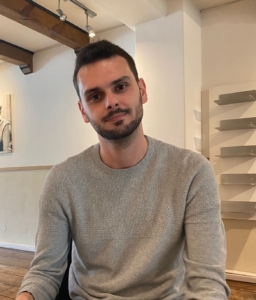 Anastasia Nikulina, Leiden University
Hunter-gatherer impact on vegetation during the Last Interglacial and the Early Holocene in Europe
Starting from my bachelor and master studies, I was interested in digital archaeology. I applied GIS techniques and 3D modelling in various archaeological contexts in Siberia and Europe. Currently, I'm a PhD candidate at Leiden University (Faculty of Archaeology), and Early Stage Researcher of the Terranova Project (Marie Sklodowska Curie Programme). My primary focus revolves around the earliest anthropogenic impact on environment in Europe. I use a combination of agent-based modelling and GIS in conjunction with variable spatial datasets. The expected results of my study include the clarification and quantification of human-induced vegetation changes and maps of possible scenarios for anthropogenically modified landscapes.