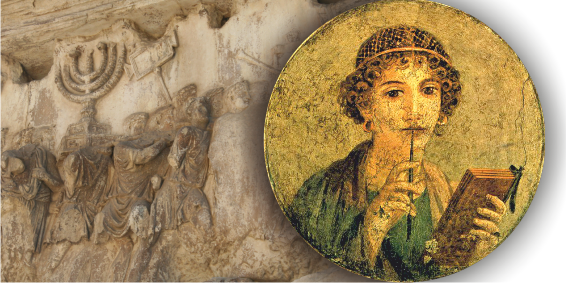 CRASIS Annual Meeting & Master Class
Date:  20 (Masterclass) & 21 (Annual Meeting) February 2023
Venue: University of Groningen
Credits: 1 – 3 ECTS
Registration is now open for the CRASIS Annual Meeting 2023 on Sensing, Making, Relating: Ontologies of the Divine. The Annual Meeting takes place on Tuesday 21 February at the University of Groningen. The event is designed to promote discussion and the exchange of ideas about the ancient world across traditional disciplinary boundaries. All are very welcome!
Each year, an internationally acknowledged expert in one of the fields represented by CRASIS is invited to deliver the CRASIS Keynote Lecture at the Annual Meeting. This year we are honoured to welcome Prof. Esther Eidinow (University of Bristol) as keynote speaker and she will be speaking on: 'Divine and Human Narratives, Time and Being'
The Annual Meeting will take place on in the Court Room of the Faculty of Theology and Religious Studies (Oude Boteringestraat 38).
---
Programme: 
09.30-10.00 Coffee, tea, and registration
10.00-10.10 Opening remarks and welcome
Session 1 – Chair: Rebecca van Hove
10.10-11.15 Keynote lecture by Esther Eidinow (University of Bristol)
'Divine and Human Narratives, Time and Being'
11.15-11.45 Coffee and tea break
Session 2 – Chair: Anna Moles
11.45-12.20 Marianne Kleibrink (University of Groningen)
'Pallas Athena and her korai: a reconstruction based on terracotta figurines and
their archaeological contexts at Francavilla Marittima (Calabria)'
12.20-12.55 Saskia Peels (University of Groningen)
'Imagining Greek gods as 'networks''
12.55-14.30 Lunch
Session 3 – Chair: Arjen Bakker
14.30-15.05 Joe Barber (University of Oxford)
'The Mythological Past and Ritual Present in the Hittite Disappearing God Texts'
15.05-15.40 Joshua Scott (University of Augsburg)
'Divine Midwives? Heavenly Messengers at Jesus of Nazareth's Birth'
15.40-16.10 Coffee and tea break
Session 4 – Chair: Felix Budelmann
16.10-16.45 Miriam Kamil (Hamilton College)
'Furiae, Erinys, Eumenides: A Taxonomy of Furies in Ovid's Metamorphoses'
16.45-17.20 Michiel van Veldhuizen (University of North Carolina Greensboro)
'Detecting Diving Agency: The Case of the Earthshaker'
17.20-17.30 Closing remarks
Followed by Reception
18.30 Dinner (for registered participants)
---
More information: For more information, keep an eye on CRASIS' website. For questions, you can reach CRASIS at crasis.aws@rug.nl.
Registration: You can register for the Annual Meeting via this form. The deadline for registration is Tuesday 14 February.
Credits:
3 EC for presenting your paper during the Masterclass (submit your presentation to secretary@archonline.nl) and attending the Annual Meeting.
1 EC for attending the Annual Meeting and handing in a report (to secretary@archonline.nl).
https://www.archonline.nl/wp-content/uploads/2020/01/CRASIS.png
283
566
Archon
https://www.archonline.nl/wp-content/uploads/2018/05/archonline-logo-lc-2.svg
Archon
2023-01-19 15:46:19
2023-02-13 09:52:35
CRASIS Annual Meeting & Master Class 2023