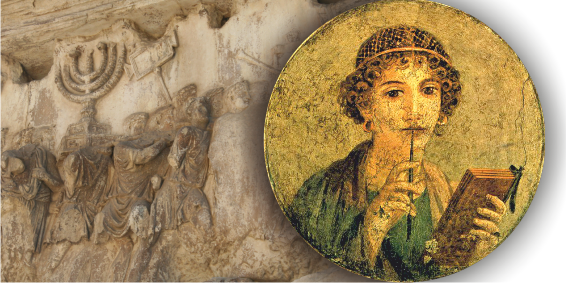 CRASIS Annual Meeting & Master Class
Date:  24 (Masterclass) & 25 (Annual Meeting) February 2022
Venue: University of Groningen
Credits: 1 – 2 ECTS
Registration is now open for the CRASIS Annual meeting on 25 February 2022 at the University of Groningen in the Netherlands. The Annual Meeting is designed to promote discussion and the exchange of ideas about the ancient world across traditional disciplinary boundaries. You can register for the Annual Meeting via this form. The deadline for registration for in-person attendance is Friday 18 February, for online attendance 23 February.
Each year, an internationally acknowledged expert in one of the fields represented by CRASIS is invited to deliver the CRASIS Keynote Lecture at the annual meeting. This year, our theme will be exemplarity, and we are honoured to welcome Prof. Rebecca Langlands (University of Exeter) as keynote speaker and master.
---
Program:
09.00-9.30                              —Coffee, tea, and registration—
9.30-09.40      Opening remarks and welcome
Session 1 – Chair: Jeremia Pelgrom
09.40-10.15    Heiko Westphal (University of Fribourg)
'Transgressive Behaviour and the Exemplary Discourse at Rome'
10.15-10.50    Nell Mulhern (Temple University)
'Foreclosure and Flattening: Exemplarity in Later Latin Poetry'
10.50-11.25    Baukje van den Berg (Central European University)
'Moral Exemplarity and Ancient Poetry in Twelfth-Century Byzantium'
11.25-11.55                            —Coffee/tea Break—
Session 2 – Chair: Eelco Glas
11.55-12.30    Carson Bay (University of Bern) & Jan Willem van Henten (University of Amsterdam)
'Exempla in 1 Maccabees and Josephus' Bellum Judaicum: Doing Jewish Exemplarity in the Greco-Roman World'
12.30-13.05    Bärry Hartog (Protestant Theological University)
'The Qumran Overseer: An Exemplar of Global Knowledge'
13.05-14.00                            —Lunch—
Session 3 – Chair: Arjen Bakker
14.00-14.35    Eleni Bozia (University of Florida)
'Verba volant, statuae manent? Linguistic exemplarity and fame in the High Empire'
14.35-15.10    Martin Dinter (King's College London)
'Exemplarity and Transmediality'
15.10-15.40                           —Coffee/tea Break—
Keynote – Chair: Bettina Reitz-Joosse
15.40-17.10    Keynote lecture by Rebecca Langlands (University of Exeter)
'Making and breaking exemplary models: lessons for today'
Afterwards    Reception & Dinner
---
More information: See the website of CRASIS. Any queries can be addressed to the CRASIS secretary Evelien de Graaf at crasis.aws@rug.nl.
Credits
2 EC for presenting your paper during the Masterclass (submit your presentation to secretary@archonline.nl) and attending the Annual Meeting and handing in a report (to secretary@archonline.nl).
1 EC for attending the Annual Meeting and handing in a report (to secretary@archonline.nl).
https://www.archonline.nl/wp-content/uploads/2020/01/CRASIS.png
283
566
Archon
https://www.archonline.nl/wp-content/uploads/2018/05/archonline-logo-lc-2.svg
Archon
2021-09-27 13:08:34
2022-02-10 10:28:52
CRASIS Annual Meeting & Master Class 2022