Sensing the Past
A workshop in applied sensory archaeology and heritage assessment
Date: 7, 8, 9 October 2021
Location: Online and on location
Credits: 1-2 ECTS
An increasing number of interdisciplinary approaches to sensory research in humanities has proven productive in decentralize ocular-centric models of experience towards holistic comprehension of historic remains. These innovative perspectives have led to a growing field of inquiry and dispersed collection of investigatory methods to approach senses individually or through their interrelationships (e.g. synesthesia). In so doing, more avenues are widening for identifying undervalued forms of historic communication, quotidian forms of place-making, and carriers of meaning in ancient and historical places that are not visibly accessible in the physical remains.
Learning goals:
After this event, students can learn the basic concepts and state-of-the-field debates in experiential archaeology and heritage work. Additionally, students can gain practical experience on the sensorial analysis of historic spaces by taking part to the sensory walk in an UNESCO site, Fort bij Uithoorn.
Preliminary Programme:
7 & 8 October: Online series of lectures and discussion sessions:
Keynote speaker: Prof. Dr. Sue Hamilton (University College London)
Monika Baumanova (University of West Bohemia)
Emma-Jayne Graham (The Open University)
Matthew Leonard (Cultural Heritage Institute, Swindon)
Jacqueline K. Ortoleva (University of Birmingham)
René G.A. Ros (Knowledgecentre Dutch Water Defence Lines & Documentationcentre Defence Line of Amsterdam)
Ruth Van Dyke (Birmingham University, SUNY)
Caro Verbeek (Vrije Universiteit, Amsterdam)
9 October: The second part of the workshop will give participants experiential fieldwork experience by taking part in a sensory walk at the Fort bij Uithoorn, a site built as part of the Amsterdam defense line system and inscribed in the Stelling van Amsterdam UNESCO world heritage designation. Research will be contextualised with a lecture by a local military history expert. Many of the forts in the Stelling have come under recent revitalisation efforts, which preserve the material composition of the fort but often significantly change the experiential layer. Fieldwork will equip participants to analyse historic sensory contributions to such historic spaces and to contribute to redevelopment dialogues beyond mere material evidence. Safety measures in place due to Covid-19 will be applied.
Have a look at the Sensing the Past webpage for abstracts of the speakers and more!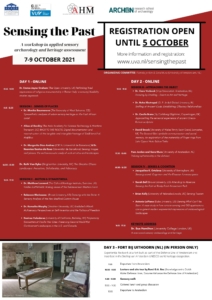 Credits:
1 ECT for participation on Thursday and Friday, and writing a reflection report.
2 ECTS for participation on Thursday, Friday and Saturday, writing a reflection report and active participation in the discussion which will take place after the sensory walk on Saturday.
1 extra ECT can be obtained when presenting your paper at the conference.
Registration: 
ARCHON members can register through the registration button on the Sensing the Past webpage. Please tick the box stating that you are a member of ARCHON.
https://www.archonline.nl/wp-content/uploads/2021/07/Sensing-the-Past-images.jpg
700
1693
Archon
https://www.archonline.nl/wp-content/uploads/2018/05/archonline-logo-lc-2.svg
Archon
2021-07-12 13:01:03
2021-09-24 07:18:38
Sensing the Past – 7, 8, 9 October 2021